YES. Of course it is stupid. And of course that's what I did. My whole triathlon season focused on speed; I did a lot of sprint races, but had no specific targets or "A" races. And I like having goals. So, in the fall I focused on two goals that I had for a long time: running an ultra-marathon and breaking 3 hours in the classic marathon distance in Philadelphia. So, I decided to take a gamble and run both within a 4 weeks period. I figured that an ultra-marathon at a comfortable pace would build enough endurance to stroll through my sub-3h marathon.
On October 21st, despite catching a cold the previous day, I was at the start line of the Bimbler's Bluff, a 50k (-ish) race that is run entirely on trails between Guilford and Madison, CT. Long story short, it is an awesome race. Also, it is a tough, humbling race. Up and downs, rocks, water crossings, climbing the Bluff, more rocks, mud, more up and downs. Because of this, it took way longer that I thought, but I ran well, relatively comfortable for the majority of the race, passing many fading runners in the last 10k, and placing 8th out of a field of 150, covering the ~52k in 5:14. Ultra-marathon, check.
After two days of soreness, I was already feeling good, and had one more very good long workout, but plantar fasciitis problems started. For the three weeks before the race, I ran as little as possible, swimming hard to maintain aerobic fitness. Long taper, some anti-inflammatory gel, extensive foot taping, and I was at the starting line in Philadelphia, together with some fellow Yale triathletes: Karlyn,  Dan S and Adam. After hosting and providing us with an excellent pre-race homemade meal, Colleen was in the crowds cheering for us, showing true captain spirit.
At the start I felt full of energy, but I was worried whether the foot would hold up for 26.2 miles or not. Luckily, it did. The race was an adventure; the 6:50 pace that I am supposed to hold for the whole race felt great for 7-8 miles, but started to feel uncomfortable after 10 (as usual), and I was dropped by the 3h pace group. I fought to get back, passed with a perfect 1:29:30 half-marathon split, and the next 5 miles run in the pack were uneventful. At mile 18 the real marathon started. A few short uphill sections took their toll, I was exhausted, and was dropped again by the pace group. I knew that if I let that go, my race would be over, and despite I was never able to catch them again, I always kept the balloons held by the pacer in sight, hanging between 30'' and 1' behind. I was so tired that to distract myself and have some fun I even took a beer shot from some guys who were having a great time improvising a beer aid station. I was lucky: a guy passed me at mile 21 holding a good pace, and I stuck to him. He saved my race: we kept exchanging words of encouragement, and I ran 3 miles with him. I thought that it felt like the last 5k of an Olympic triathlon: no gas left, but you keep going. We did not catch but got considerably closer to the pace group, which was about 45 seconds ahead of the 3h goal, so I knew I was still doing well. But by mile 24, I was dying. I was dropped by my new friend and when I hit mile 25 and the last short and gentle uphill leading to the Arts Museum with the famous Rocky steps, it was the hardest running I've ever done. I was very determined, but biomechanically I was not functioning – clumsy, uncoordinated, moving so slowly despite the maximum effort. Karlyn, who had completed the half-marathon race in a remarkable 1h32', appeared from the crowds when I most needed it and ran for about a minute beside –or rather in front of– me: it was such an incredible and unexpected help to have somebody to follow. I don't know what would have happened without it. I remember looking at my watch at the 26-mile marker, showing 2:58:00, and 0.2 miles to go. The finish was slightly downhill, and the speaker was doing the countdown for the 3h finishers. I sprinted as hard as I could, crossed the finish line, stopped my watch, and in the first few seconds after finishing I wanted to cry because of the pain of the last 10 minutes. I looked at my watch, and it showed 2:59:48. Time for a beer.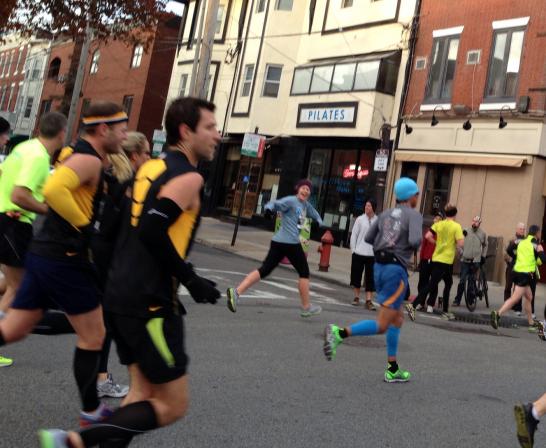 Karlyn dancing her way to the finish line
 One of the last smiles of the race: mile FOUR